Emotional exhaustion and job satisfaction in airport security officers. Work-family conflict mediator in the job demands-resources model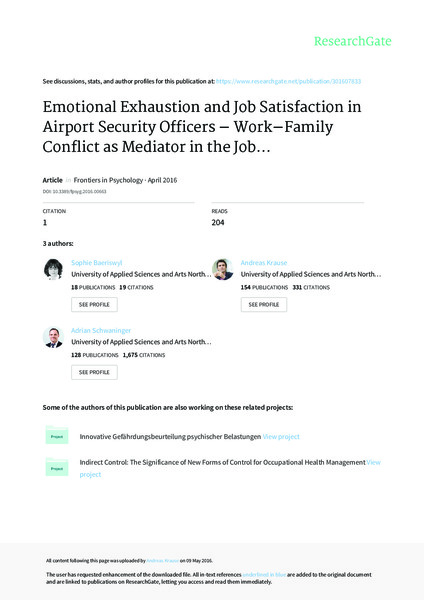 Dateien
Typ
01A - Beitrag in wissenschaftlicher Zeitschrift
Herausgeber:innen
Herausgeber:in (Körperschaft)
Betreuer:in
Verlag / Herausgebende Institution
Verlagsort / Veranstaltungsort
Praxispartner:in/Auftraggeber:in
Zusammenfassung
The growing threat of terrorism has increased the importance of aviation security and the work of airport security officers (screeners). Nonetheless, airport security research has yet to focus on emotional exhaustion and job satisfaction as major determinants of screeners' job performance. The present study bridges this research gap by applying the job demands–resources (JD–R) model and using work–family conflict (WFC) as an intervening variable to study relationships between work characteristics (workload and supervisor support), emotional exhaustion, and job satisfaction in 1,127 screeners at a European airport. Results of structural equation modeling revealed that (a) supervisorsupport as a major job resource predicted job satisfaction among screeners; (b) workload as a major job demand predicted their emotional exhaustion; and (c) WFC proved to be a promising extension to the JD–R model that partially mediated the impact of supervisor support and workload on job satisfaction and emotional exhaustion. Theoretical and practical implications are discussed.
Startdatum der Ausstellung
Datum der letzten Prüfung
Während FHNW Zugehörigkeit erstellt
Begutachtung
Peer-Review der ganzen Publikation
Zitation
BAERISWYL-ZURBRIGGEN, Sophie, Andreas KRAUSE und Adrian SCHWANINGER, 2016. Emotional exhaustion and job satisfaction in airport security officers. Work-family conflict mediator in the job demands-resources model.
Frontiers in Psychology
. 2016. S. 1–13. DOI /10.3389/fpsyg.2016.00663. Verfügbar unter: https://doi.org/10.26041/fhnw-939