The impact of different energy balancing methods on Net Zero Energy Buildings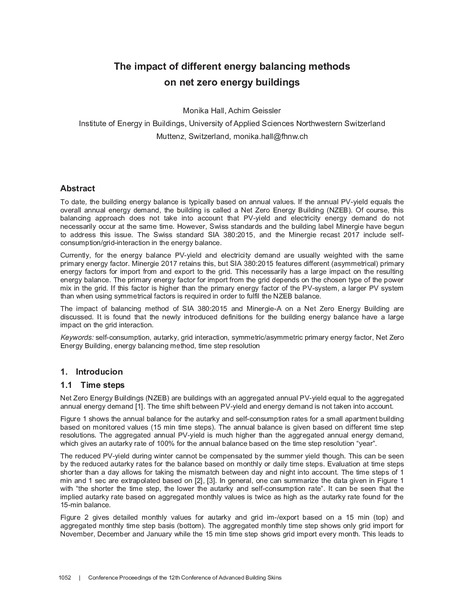 Datum
03.10.2017
Autorin/Autor
Type
04 - Beitrag Sammelband oder Konferenzschrift
Primary target group
Praxis
Created while belonging to FHNW?
Yes
Zusammenfassung
To date, the building energy balance is typically based on annual values. If the annual PV-yield equals the overall annual energy demand, the building is called a Net Zero Energy Building (NZEB). Of course, this balancing approach does not take into account that PV-yield and electricity energy demand do not necessarily occur at the same time. However, Swiss standards and the building label Minergie have begun to address this issue. The Swiss standard SIA 380:2015, and the Minergie recast 2017 include self-consumption/grid-interaction in the energy balance. Currently, for the energy balance PV-yield and electricity demand are usually weighted with the same primary energy factor. Minergie 2017 retains this, but SIA 380:2015 features different (asymmetrical) primary energy factors for import from and export to the grid. This necessarily has a large impact on the resulting energy balance. The primary energy factor for import from the grid depends on the chosen type of the power mix in the grid. If this factor is higher than the primary energy factor of the PV-system, a larger PV system than when using symmetrical factors is required in order to fulfil the NZEB balance. The impact of balancing method of SIA 380:2015 and Minergie-A on a Net Zero Energy Building are discussed. It is found that the newly introduced definitions for the building energy balance have a large impact on the grid interaction.
Verwandte Eintraege
Anzeige der Eintraege mit ähnlichem Titel, Autor, Urheber und Thema.
Geinoz, Nicolas

;

Bombail, Marc-Antoine

;

Borcard, Raphael

;

Labudde, Peter

(

Verband Schweizerischer Elektrizitätsunternehmen VSE

,

2010

)

Uhl, Axel

;

Kaczynski, Sebastian

(

2014-12-01

)

The growing demand for energy, depleting resources, and climate change highlight the limitations of our fossil-fuel-based energy system. Alternative forms of energy must be explored extensively and energy efficiency strongly ...

Hall, Monika

;

Berggren, Björn

;

Wall, Maria

(

EPFL

,

2013

)

An important measure for climate change mitigation is reduction of energy use in buildings worldwide. There are today a growing number of buildings for which the design principle has been to achieve a Zero Energy Building ...