Web Assessment: Applied to the Agreement and Settlement Phase.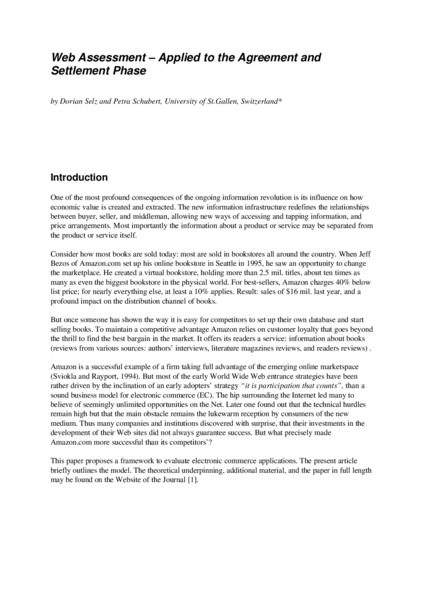 Datum
01.01.1997
Autorin/Autor
Type
04 - Beitrag Sammelband oder Konferenzschrift
Primary target group
Sonstige
Created while belonging to FHNW?
unbekannt
Zusammenfassung
One of the most profound consequences of the ongoing information revolution is its influence on how economic value is created and extracted. The new information infrastructure redefines the relationships between buyer, seller, and middleman, allowing new ways of accessing and tapping information, and price arrangements. Most importantly the information about a product or service may be separated from the product or service itself. Consider how most books are sold today: most are sold in bookstores all around the country. When Jeff Bezos of Amazon.com set up his online bookstore in Seattle in 1995, he saw an opportunity to change the marketplace. He created a virtual bookstore, holding more than 2.5 mil. titles, about ten times as many as even the biggest bookstore in the physical world. For best-sellers, Amazon charges 40% below list price, for nearly everything else, at least a 10% applies. Result: sales of $16 mil.