Measure Process Maturity for Quality Management Systems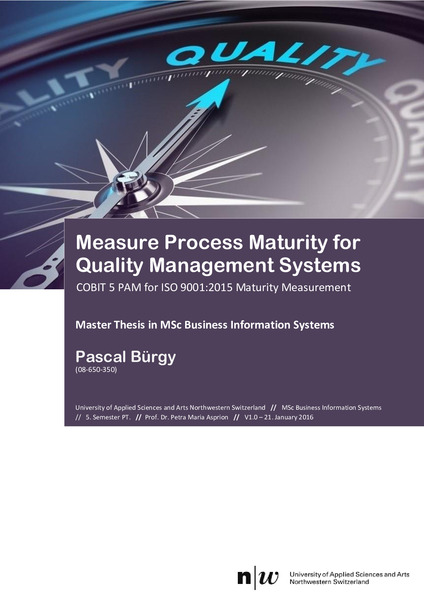 Autor:innen
Sammlung
Herausgeber:innen
Herausgeber:in (Körperschaft)
Betreuer:in
Verlag / Herausgebende Institution
Hochschule für Wirtschaft FHNW
Verlagsort / Veranstaltungsort
Praxispartner:in/Auftraggeber:in
Zusammenfassung
ISO 9001:2015 is a widespread standard for quality management – also and espe-cially within the IT industry. As with every standard or best practice, quality manage-ment systems require a continuous improvement whose characteristics are defined on a high-level basis within ISO 9001:2015. Respectively, companies develop individ-ual improvement approaches, which makes comparison and industry benchmarking impossible. Therefore, this study establishes a COBIT 5 PAM based maturity measurement in-strument for ISO 9001 based process models, wherewith ISO 9001 certified compa-nies will be able to assess their individual process models along the standardized maturity measurement instruments of COBIT 5 PAM. This study analyses, based on a design science research approach, the current scientific and practical literature about quality management and process maturity measurement as well as that about respective combination approaches of these fields. With this foundation, a compre-hensive mapping of ISO 9001:2015 and COBIT 5 PAM needs to be defined. This map-ping then is the baseline for a prototype that allows process maturity measurement for ISO 9001 certified process models. Finally, this prototype need to be validated within a qualitative case study. Based on the combination of ISO 9001:2015 and COBIT 5 PAM on process level, the Process Improvement Prototype (PIP) is developed. This prototype covers two activ-ities, which participating companies need to perform. On the one hand, the PIP sup-ports its users when mapping their individual process maps with a generic ISO 9001:2015 process map (GPM-IT). This generalization, on the other hand, allows the execution of the PIPs second activity, whereas the measurement tools of COBIT 5 PAM are applied to define the capability level of individual ISO 9001:2015 processes and establish respective process improvement initiatives. The PIP has been validated within a practical environment together with Glaux Soft AG, a Swiss-based software development SME. Thereby, its overall usability is ap-proved by mapping Glaux Softs individual ISO 9001 processes with the generic pro-cesses of the GPM-IT and furthermore, by performing a process maturity measure-ment iteration with the PIPs tools and techniques. Thereby, certain limitations and improvement ideas are identified and either directly addressed within the study or highlighted as possible prospective research activities.
Schlagwörter
Process
,
Maturity Measurement
,
Quality Management
,
ISO 9001:2015
,
COBIT 5 PAM
,
Small and Mid-Sized Enterprises (SME)
,
Swiss based
,
Glaux Soft AG
,
Master Thesis
,
Design Science Research
Fachgebiet (DDC)
004 - Computer Wissenschaften, Internet
Startdatum der Ausstellung
Datum der letzten Prüfung
Während FHNW Zugehörigkeit erstellt
Zitation
BÜRGY, Pascal, 2015.
Measure Process Maturity for Quality Management Systems
. Hochschule für Wirtschaft FHNW. Verfügbar unter: https://doi.org/10.26041/fhnw-1158