Current challenges and future perspectives in oral absorption research. An opinion of the UNGAP network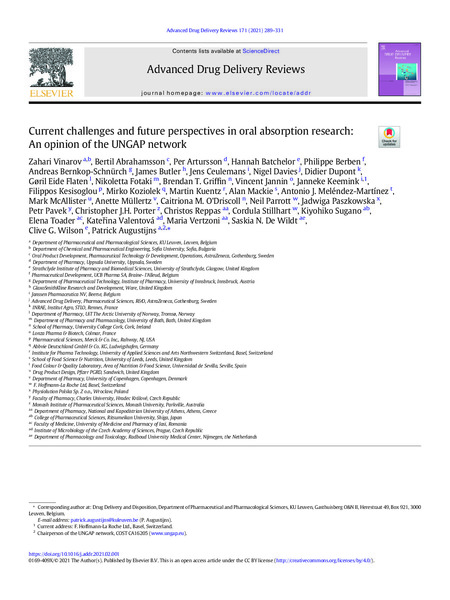 Autor:innen
Bernkop-Schnürch, Andreas
Typ
01A - Beitrag in wissenschaftlicher Zeitschrift
Herausgeber:innen
Herausgeber:in (Körperschaft)
Betreuer:in
Übergeordnetes Werk
Advanced Drug Delivery Reviews
Verlag / Herausgebende Institution
Verlagsort / Veranstaltungsort
Praxispartner:in/Auftraggeber:in
Zusammenfassung
Although oral drug delivery is the preferred administration route and has been used for centuries, modern drug discovery and development pipelines challenge conventional formulation approaches and highlight the insufficient mechanistic understanding of processes critical to oral drug absorption. This review presents the opinion of UNGAP scientists on four key themes across the oral absorption landscape: (1) specific patient populations, (2) regional differences in the gastrointestinal tract, (3) advanced formulations and (4) food-drug interactions. The differences of oral absorption in pediatric and geriatric populations, the specific issues in colonic absorption, the formulation approaches for poorly water-soluble (small molecules) and poorly permeable (peptides, RNA etc.) drugs, as well as the vast realm of food effects, are some of the topics discussed in detail. The identified controversies and gaps in the current understanding of gastrointestinal absorption-related processes are used to create a roadmap for the future of oral drug absorption research.
Schlagwörter
Specific patient populations
,
Regional differences
,
Advanced formulations
,
Amorphous solid dispersions
,
Lipid-based formulations
,
Food-drug interactions
,
Microbiome
,
In vitro tools
,
PBPK modeling
Startdatum der Ausstellung
Datum der letzten Prüfung
Während FHNW Zugehörigkeit erstellt
Begutachtung
Peer-Review der ganzen Publikation
Zitation
KUENTZ, Martin, Zahari VINAROV, Abrahamsson BERTIL, Per ARTURSSON, Hannah BATCHELOR, Philippe BERBEN, Andreas BERNKOP-SCHNÜRCH, James BUTLER, Jens CEULEMANS, Nigel DAVIES, Didier DUPONT, Goril EIDE FLATEN, Nikoleta FOTAKI, Vincent JANNIN, Janneke KEEMINK, Filippos KESISOGLOU, Mirko KOZIOLEK, Patrick AUGUSTIJNS und Brendan GRIFFIN, 2021. Current challenges and future perspectives in oral absorption research. An opinion of the UNGAP network.
Advanced Drug Delivery Reviews
. April 2021. Bd. 171, S. 289–331. DOI 10.1016/j.addr.2021.02.001. Verfügbar unter: https://doi.org/10.26041/fhnw-4104