An Evaluation of On-line Grocery Services in Australia from a Consumers? Viewpoint.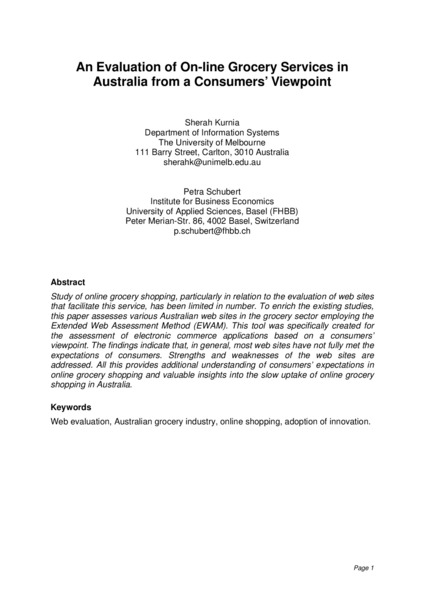 Autor/Autorin
Datum
01.01.2004
Type
04 - Beitrag Sammelband oder Konferenzschrift
Zusammenfassung
Study of online grocery shopping, particularly in relation to the evaluation of web sites that facilitate this service, has been limited in number. To enrich the existing studies, this paper assesses various Australian web sites in the grocery sector employing the Extended Web Assessment Method (EWAM). This tool was specifically created for the assessment of electronic commerce applications based on a consumers' viewpoint. The findings indicate that, in general, most web sites have not fully met the expectations of consumers. Strengths and weaknesses of the web sites are addressed. All this provides additional understanding of consumers? expectations in online grocery shopping and valuable insights into the slow uptake of online grocery shopping in Australia.
Seiten
Veranstaltung
Proceedings of the Twelfth CollECTeR Workshop on eCommerce