Overcoming Mass Confusion: Collaborative Customer Co-Design in Online Communities.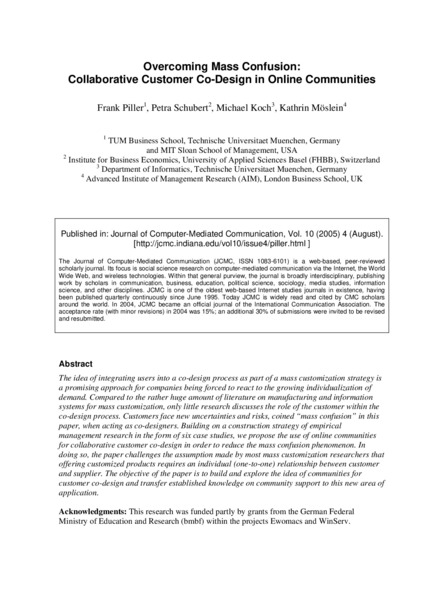 Autor/Autorin
Datum
2005
Type
01 - Zeitschriftenartikel, Journalartikel oder Magazin
Zusammenfassung
Reference: http://jcmc.indiana.edu/vol10/issue4/piller.html.The idea of integrating users into a co-design process as part of a mass customization strategy is a promising approach for companies being forced to react to the growing individualization of demand. Compared to the rather huge amount of literature on manufacturing and information systems for mass customization, only little research discusses the role of the customer within the co-design process. Customers face new uncertainties and risks, coined "mass confusion" in this paper, when acting as co-designers. Building on a construction strategy of empirical management research in the form of six case studies, we propose the use of online communities for collaborative customer co-design in order to reduce the mass confusion phenomenon.
Übergeordnetes Werk
Journal of Computer-Mediated Communication
Seiten