The Participatory Electronic Product Catalog: Supporting Customer Collaboration in E-Commerce Applications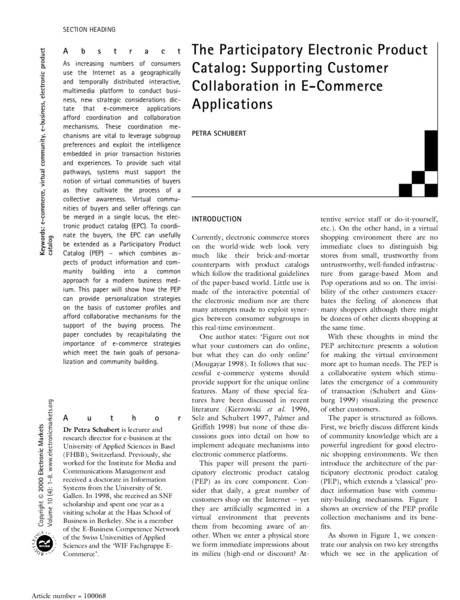 Typ
01 - Zeitschriftenartikel, Journalartikel oder Magazin
Herausgeber:innen
Herausgeber:in (Körperschaft)
Betreuer:in
Übergeordnetes Werk
Electronic Markets Journal
Verlag / Herausgebende Institution
Verlagsort / Veranstaltungsort
Praxispartner:in/Auftraggeber:in
Zusammenfassung
As increasing numbers of consumers use the Internet as a geographically and temporally distributed interactive, multimedia platform to conduct business, new strategic considerations dictate that E-Commerce Applications afford coordination and collaboration mechanisms. These coordination mechanisms are vital to leverage subgroup preferences and exploit the intelligence embedded in prior transaction histories and experiences. To provide such vital pathways, systems must support the notion of Virtual Communities of Buyers as they cultivate the process of a collective awareness. Virtual Communities of Buyers and Seller Offerings can be merged in a single locus, the electronic product catalog (EPC). To coordinate the buyers, the EPC can usefully be extended as a Participatory Product Catalog (PEP) - which combines aspects of product information and community building into a common approach for a modern business medium.
Fachgebiet (DDC)
330 - Wirtschaft
005 - Computer Programmierung, Programme und Daten
Startdatum der Ausstellung
Datum der letzten Prüfung
Während FHNW Zugehörigkeit erstellt
Zitation
SCHUBERT, Petra, 2000. The Participatory Electronic Product Catalog: Supporting Customer Collaboration in E-Commerce Applications.
Electronic Markets Journal
. 2000. Bd. 2000, S. 229–236. DOI 10.26041/fhnw-2941. Verfügbar unter: https://doi.org/10.26041/fhnw-2941