The Power of Personalization: Customer Collaboration and Virtual Communities.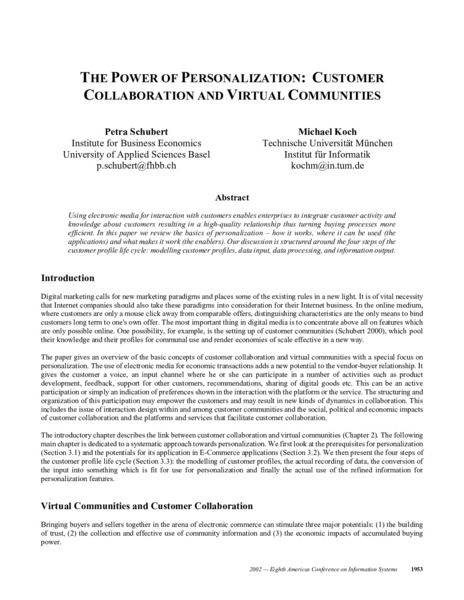 Autor/Autorin
Datum
2002
Type
04 - Beitrag Sammelband oder Konferenzschrift
Zusammenfassung
Using electronic media for interaction with customers enables enterprises to integrate customer activity and knowledge about customers resulting in a high-quality relationship thus turning buying processes more efficient. In this paper we review the basics of personalization - how it works, where it can be used (the applications) and what makes it work (the enablers). Our discussion is structured around the four steps of the customer profile life cycle: modelling customer profiles, data input, data processing, and information output.
Übergeordnetes Werk
Proceedings of the Eighth Americas Conference on Information Systems (AMCIS)
Seiten
Veranstaltung
Proceedings of the Eighth Americas Conference on Information Systems (AMCIS)