Extended Web Assessment Method (EWAM) - Evaluation of Electronic Commerce Applications from the Customer's Viewpoint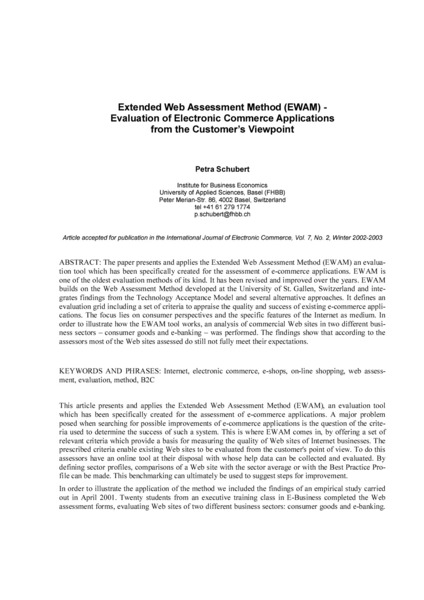 Typ
01A - Beitrag in wissenschaftlicher Zeitschrift
Herausgeber:innen
Herausgeber:in (Körperschaft)
Betreuer:in
Übergeordnetes Werk
International Journal of Electronic Commerce
Verlag / Herausgebende Institution
Verlagsort / Veranstaltungsort
Praxispartner:in/Auftraggeber:in
Zusammenfassung
The paper presents and applies the Extended Web Assessment Method (EWAM) an evaluation tool which has been specifically created for the assessment of e-commerce applications. EWAM is one of the oldest evaluation methods of its kind. It has been revised and improved over the years. EWAM builds on the Web Assessment Method developed at the University of St. Gallen, Switzerland and integrates findings from the Technology Acceptance Model and several alternative approaches. It defines an evaluation grid including a set of criteria to appraise the quality and success of existing e-commerce applications. The focus lies on consumer perspectives and the specific features of the Internet as medium. In order to illustrate how the EWAM tool works, an analysis of commercial Web sites in two different business sectors - consumer goods and e-banking - was performed. The findings show that according to the assessors most of the Web sites assessed do still not fully meet their expectations.
Schlagwörter
Web Assessment
,
EC-Applikationen
Fachgebiet (DDC)
330 - Wirtschaft
005 - Computer Programmierung, Programme und Daten
Startdatum der Ausstellung
Datum der letzten Prüfung
Während FHNW Zugehörigkeit erstellt
Zitation
SCHUBERT, Petra, 2002. Extended Web Assessment Method (EWAM) - Evaluation of Electronic Commerce Applications from the Customer's Viewpoint.
International Journal of Electronic Commerce
. 2002. Bd. 7, Nr. 2, S. 51–80. DOI 10.26041/fhnw-3100. Verfügbar unter: https://doi.org/10.26041/fhnw-3100