Knowledge Transfer from Researchers to Businesses - eXperience and EUREXIS.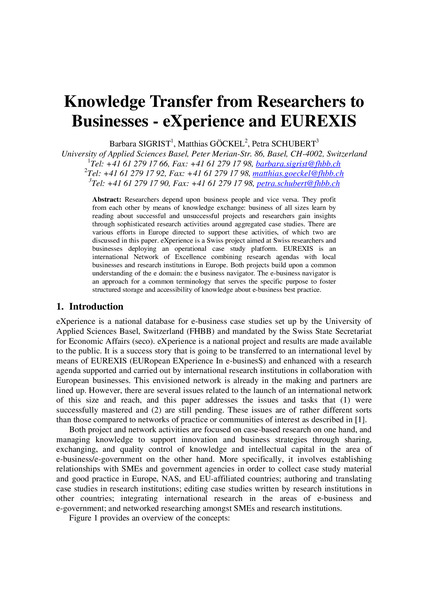 Datum
01.01.2004
Autorin/Autor
Type
04 - Beitrag Sammelband oder Konferenzschrift
Primary target group
Sonstige
Created while belonging to FHNW?
unbekannt
Zusammenfassung
Researchers depend upon business people and vice versa. They profit from each other by means of knowledge exchange: business of all sizes learn by reading about successful and unsuccessful projects and researchers gain insights through sophisticated research activities around aggregated case studies. There are various efforts in Europe directed to support these activities, of which two are discussed in this paper. eXperience is a Swiss project aimed at Swiss researchers and businesses deploying an operational case study platform. EUREXIS is an international Network of Excellence combining research agendas with local businesses and research institutions in Europe. Both projects build upon a common understanding of the e domain: the e business navigator. The e-business navigator is an approach for a common terminology that serves the specific purpose to foster structured storage and accessibility of knowledge about e-business best practice.