What is Organizational Knowledge Maturing and how can it be assessed?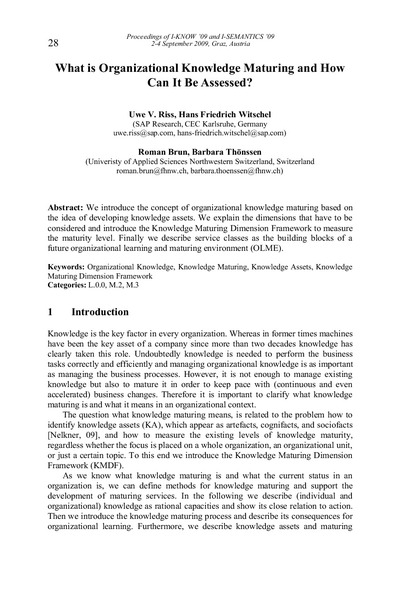 Autor/Autorin
Datum
2009
Type
04B - Beitrag Konferenzschrift
Zusammenfassung
We introduce the concept of organizational knowledge maturing based on the idea of developing knowledge assets. We explain the dimensions that have to beconsidered and introduce the Knowledge Maturing Dimension Framework to measure the maturity level. Finally we describe service classes as the building blocks of afuture organizational learning and maturing environment (OLME).
Übergeordnetes Werk
Proceedings of I-KNOW '09 and I-SEMANTICS '09;
I-KNOW'09, 9th International Conference on Knowledge Management and Knowledge Technologies
Veranstaltung
I-KNOW'09, 9th International Conference on Knowledge Management and Knowledge Technologies