Self-Respect as a Normative Foundation to Integrate Integrity into Responsible Leadership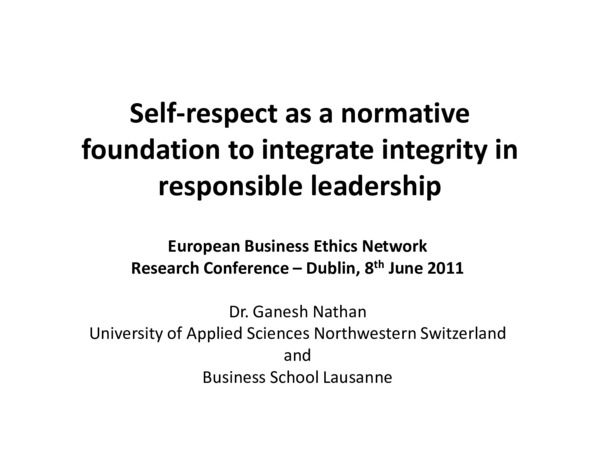 Autor:innen
Sammlung
Herausgeber:innen
Herausgeber:in (Körperschaft)
Betreuer:in
Verlag / Herausgebende Institution
Verlagsort / Veranstaltungsort
Praxispartner:in/Auftraggeber:in
Zusammenfassung
There is a growing interest among academic researchers and practitioners in management studies to show that integrity maters for leadership and performance. Although integrity is generally understood as honouring one's words with a plausible link with ethics and morality, it is not clear whether there is any responsibility for leaders to act with integrity. Integrity is shown to be a positive phenomenon for leadership and performance without any normative foundation. This paper attempts to show that responsible leadership requires a normative foundation of self-respect and thereby it shows that integrity can be integrated in leadership ethics for responsible leadership.
Schlagwörter
self-respect
,
integrity
,
responsible leadership
,
leadership ethics
,
social virtue
Veranstaltung
European Business Ethics Network (EBEN) Research Conference, "Does Integrity Matter?"
Startdatum der Ausstellung
Datum der letzten Prüfung
Während FHNW Zugehörigkeit erstellt
Zitation
NATHAN, Ganesh, 2011. Self-Respect as a Normative Foundation to Integrate Integrity into Responsible Leadership.
European Business Ethics Network (EBEN) Research Conference, "Does Integrity Matter?"
. Dublin. Juni 2011. Verfügbar unter: https://doi.org/10.26041/fhnw-46