Innovation Process and Ethics in Technology: An approach to ethical (responsible) innovation governance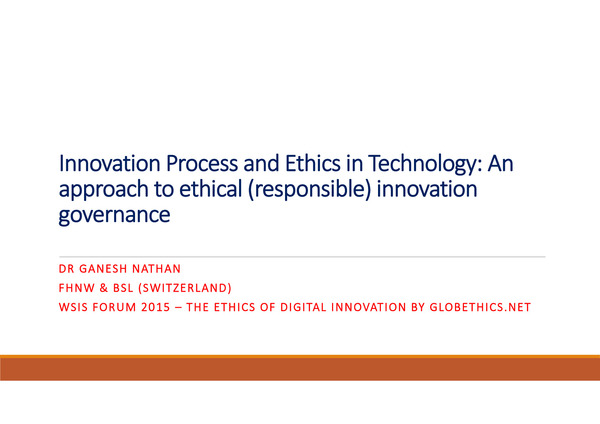 Datum
2015
Autorin/Autor
Primary target group
Praxis
Created while belonging to FHNW?
Yes
Zusammenfassung
This presentation is based on the forthcoming article: Nathan, G. 2015 (forthcoming). Innovation Process and Ethics in Technology: An approach to ethical (responsible) innovation governance, Journal on Chain and Network Science, Wageningen Academic Publishers; A special issue on Responsible Innovation
Verwandte Eintraege
Anzeige der Eintraege mit ähnlichem Titel, Autor, Urheber und Thema.
Nathan, Ganesh

(

Wageningen Academic Publisher

,

2015

)

In general, innovation governance models, which deal with organizational structure, innovation process, strategy and leadership, are becoming increasingly important for innovative companies for effective innovation management. ...

Maeder, Christoph

;

Nadai, Eva

(

Ashgate

,

2009

)

Nathan, Ganesh

(

2016-06-10

)

There is growing interest and importance for responsible research and innovation (RRI) among academic scholars and policy makers, especially, in relation to emerging technologies such as nanotechnology. It is also to be ...