The Sources of Entrepreneurial Opportunities: Perspectives on individuals and institutions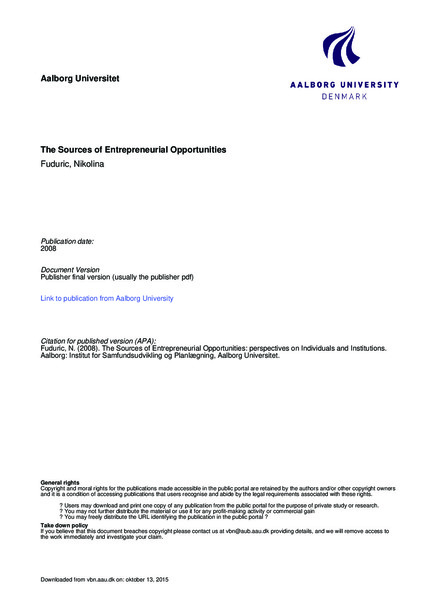 Autor:innen
Herausgeber:innen
Herausgeber:in (Körperschaft)
Betreuer:in
Verlag / Herausgebende Institution
Verlagsort / Veranstaltungsort
Praxispartner:in/Auftraggeber:in
Zusammenfassung
This paper has five goals. The first is to offer a literature review on the sources of opportunities in the entrepreneurship process. The literature review shows that the theoretical and empirical contributions are quite fragmented and in need of a framework. The second goal is to explore the generally accepted view in the field that entrepreneurs can be described from a Schumpeterian or Kirznerian perspective. I propose that one entrepreneur has the opportunity to be both depending on which stage of the entrepreneurial process he is in and in what environmental context he finds himself in. The third and fourth goals are to delineate which individual and environmental factors provide the entrepreneur with opportunities by examining existing research. Finally, the fifth goal is to develop a framework including the individual and environmental factors affecting the discovery and exploitation of opportunities. This framework will be used to structure my empirical research in a post-socialist periphery.
Schlagwörter
Entrepreneurship
,
Opportunity Discovery
,
Opportunity Exploitation
Fachgebiet (DDC)
300 - Sozialwissenschaften
Startdatum der Ausstellung
Datum der letzten Prüfung
Während FHNW Zugehörigkeit erstellt
Begutachtung
Fachlektorat/Editorial Review
Zitation
FUDURIC, Nikolina, 2008.
The Sources of Entrepreneurial Opportunities: Perspectives on individuals and institutions
. Aalborg: Aalborg Universitet. ISBN 978-87-91830-18-1. Verfügbar unter: https://doi.org/10.26041/fhnw-113