Collaborative Networks in Primary and Specialized Palliative Care in Switzerland - Perspectives of Doctors and Nurses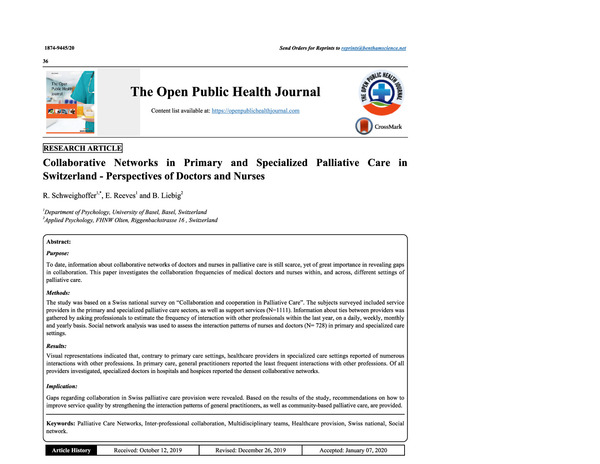 Dateien
Typ
01A - Beitrag in wissenschaftlicher Zeitschrift
Herausgeber:innen
Herausgeber:in (Körperschaft)
Betreuer:in
Übergeordnetes Werk
The Open Public Health Journal
Verlag / Herausgebende Institution
Verlagsort / Veranstaltungsort
Praxispartner:in/Auftraggeber:in
Zusammenfassung
To date, information about collaborative networks of doctors and nurses in palliative care is still scarce, yet of great importance in revealing gaps in collaboration. This paper investigates the collaboration frequencies of medical doctors and nurses within, and across, different settings of palliative care. The study was based on a Swiss national survey on "Collaboration and cooperation in Palliative Care". The subjects surveyed included service providers in the primary and specialized palliative care sectors, as well as support services (N=1111). Information about ties between providers was gathered by asking professionals to estimate the frequency of interaction with other professionals within the last year, on a daily, weekly, monthly and yearly basis. Social network analysis was used to assess the interaction patterns of nurses and doctors (N= 728) in primary and specialized care settings. Visual representations indicated that, contrary to primary care settings, healthcare providers in specialized care settings reported of numerous interactions with other professions. In primary care, general practitioners reported the least frequent interactions with other professions. Of all providers investigated, specialized doctors in hospitals and hospices reported the densest collaborative networks. Gaps regarding collaboration in Swiss palliative care provision were revealed. Based on the results of the study, recommendations on how to improve service quality by strengthening the interaction patterns of general practitioners, as well as community-based palliative care, are provided.
Schlagwörter
Palliative Care Networks
,
Inter-professional collaboration
,
Multidisciplinary teams
,
Healthcare provision
,
Swiss national
,
Social network
Fachgebiet (DDC)
300 - Sozialwissenschaften, Soziologie, Anthropologie
610 - Medizin und Gesundheit
Startdatum der Ausstellung
Datum der letzten Prüfung
Während FHNW Zugehörigkeit erstellt
Begutachtung
Peer-Review der ganzen Publikation
Zitation
SCHWEIGHOFFER, Reka, Emily REEVES und Brigitte LIEBIG, 2020. Collaborative Networks in Primary and Specialized Palliative Care in Switzerland - Perspectives of Doctors and Nurses.
The Open Public Health Journal
. 2020. Bd. 13, Nr. 1. Verfügbar unter: https://irf.fhnw.ch/handle/11654/31938