Heterosexist attitudes amongst students entering a Bachelor of Social Work Programme in Switzerland: exploring continuing challenges for social work education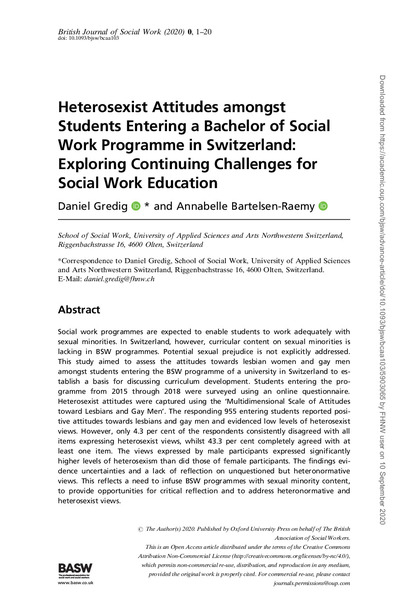 Autor:innen
Sammlung
Typ
01 - Zeitschriftenartikel, Journalartikel oder Magazin
Herausgeber:innen
Herausgeber:in (Körperschaft)
Betreuer:in
Übergeordnetes Werk
The British Journal of Social Work
Verlag / Herausgebende Institution
Verlagsort / Veranstaltungsort
Praxispartner:in/Auftraggeber:in
Zusammenfassung
Social work programmes are expected to enable students to work adequately with sexual minorities. In Switzerland, however, curricular content on sexual minorities is lacking in BSW programmes. Potential sexual prejudice is not explicitly addressed. This study aimed to assess the attitudes towards lesbian women and gay men amongst students entering the BSW programme of a university in Switzerland to establish a basis for discussing curriculum development. Students entering the programme from 2015 through 2018 were surveyed using an online questionnaire. Heterosexist attitudes were captured using the 'Multidimensional Scale of Attitudes toward Lesbians and Gay Men'. The responding 955 entering students reported positive attitudes towards lesbians and gay men and evidenced low levels of heterosexist views. However, only 4.3 per cent of the respondents consistently disagreed with all items expressing heterosexist views, whilst 43.3 per cent completely agreed with at least one item. The views expressed by male participants expressed significantly higher levels of heterosexism than did those of female participants. The findings evidence uncertainties and a lack of reflection on unquestioned but heteronormative views. This reflects a need to infuse BSW programmes with sexual minority content, to provide opportunities for critical reflection and to address heteronormative and heterosexist views.
Schlagwörter
heterosexism
,
heterosexist attitudes
,
homophobia
,
social work students
,
Switzerland
Fachgebiet (DDC)
300 - Sozialwissenschaften
370 - Erziehung, Schul- und Bildungswesen
Startdatum der Ausstellung
Datum der letzten Prüfung
Während FHNW Zugehörigkeit erstellt
Begutachtung
Peer-Review der ganzen Publikation
Zitation
GREDIG, Daniel und Annabelle BARTELSEN, 2020. Heterosexist attitudes amongst students entering a Bachelor of Social Work Programme in Switzerland: exploring continuing challenges for social work education.
The British Journal of Social Work
. 2020. DOI /10.1093/bjsw/bcaa103. Verfügbar unter: https://doi.org/10.26041/fhnw-3655