Responses of reconstituted human bronchial epithelia from normal and health-compromised donors to non-volatile particulate matter emissions from an aircraft turbofan engine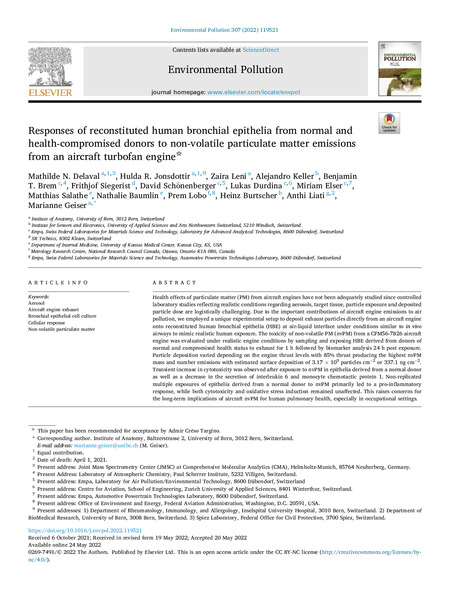 Typ
01A - Beitrag in wissenschaftlicher Zeitschrift
Herausgeber:innen
Herausgeber:in (Körperschaft)
Betreuer:in
Verlag / Herausgebende Institution
Verlagsort / Veranstaltungsort
Praxispartner:in/Auftraggeber:in
Zusammenfassung
Health effects of particulate matter (PM) from aircraft engines have not been adequately studied since controlled laboratory studies reflecting realistic conditions regarding aerosols, target tissue, particle exposure and deposited particle dose are logistically challenging. Due to the important contributions of aircraft engine emissions to air pollution, we employed a unique experimental setup to deposit exhaust particles directly from an aircraft engine onto reconstituted human bronchial epithelia (HBE) at air-liquid interface under conditions similar to in vivo airways to mimic realistic human exposure. The toxicity of non-volatile PM (nvPM) from a CFM56-7B26 aircraft engine was evaluated under realistic engine conditions by sampling and exposing HBE derived from donors of normal and compromised health status to exhaust for 1 h followed by biomarker analysis 24 h post exposure. Particle deposition varied depending on the engine thrust levels with 85% thrust producing the highest nvPM mass and number emissions with estimated surface deposition of 3.17 × 109 particles cm−2 or 337.1 ng cm−2. Transient increase in cytotoxicity was observed after exposure to nvPM in epithelia derived from a normal donor as well as a decrease in the secretion of interleukin 6 and monocyte chemotactic protein 1. Non-replicated multiple exposures of epithelia derived from a normal donor to nvPM primarily led to a pro-inflammatory response, while both cytotoxicity and oxidative stress induction remained unaffected. This raises concerns for the long-term implications of aircraft nvPM for human pulmonary health, especially in occupational settings.
Schlagwörter
Aerosol
,
Aircraft engine exhaust
,
Bronchial epithelial cell culture
,
Cellular response
,
Non-volatile particulate matter
Startdatum der Ausstellung
Datum der letzten Prüfung
Während FHNW Zugehörigkeit erstellt
Begutachtung
Peer-Review der ganzen Publikation
Zitation
DELAVAL, Mathilde N., Hulda R. JONSDOTTIR, Zaira LENI, Alejandro KELLER, Benjamin T. BREM, Frithjof SIEGERIST, David SCHÖNENBERGER, Lukas DURDINA, Miriam ELSER, Matthias SALATHE, Nathalie BAUMLIN, Prem LOBO, Heinz BURTSCHER, Anthi LIATI und Marianne GEISER, 2022. Responses of reconstituted human bronchial epithelia from normal and health-compromised donors to non-volatile particulate matter emissions from an aircraft turbofan engine.
Environmental Pollution
. 15 August 2022. Bd. 307. DOI 10.1016/j.envpol.2022.119521. Verfügbar unter: https://doi.org/10.26041/fhnw-4653