An Experiment on Recommender Systems for SME Online Shops.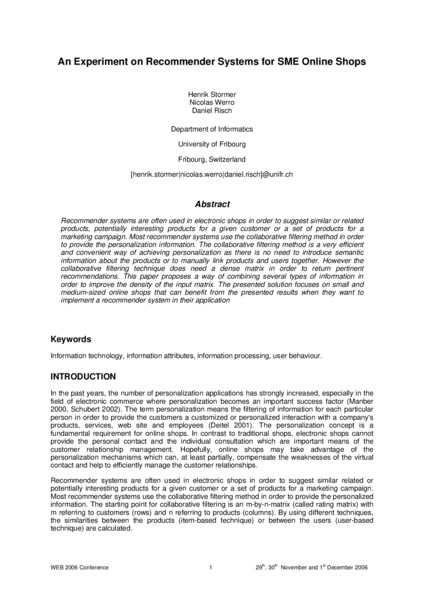 Autor/Autorin
Datum
2006
Type
04 - Beitrag Sammelband oder Konferenzschrift
Zusammenfassung
Recommender systems are often used in electronic shops in order to suggest similar or related products, potentially interesting products for a given customer or a set of products for a marketing campaign. Most recommender systems use the collaborative filtering method in order to provide the personalization information. The collaborative filtering method is a very efficient and convenient way of achieving personalization as there is no need to introduce semantic information about the products or to manually link products and users together. However the collaborative filtering technique does need a dense matrix in order to return pertinent recommendations. This paper proposes a way of combining several types of information in order to improve the density of the input matrix. The presented solution focuses on small and medium-sized online shops that can benefit from the presented results when they want to implement a recommender system in their application.
Übergeordnetes Werk
Proceedings of the 7th International We-B (Working for E-Business) Conference
Veranstaltung
Proceedings of the 7th International We-B (Working for E-Business) Conference