Importance and Use of Information Technology in Small and Medium-Sized Companies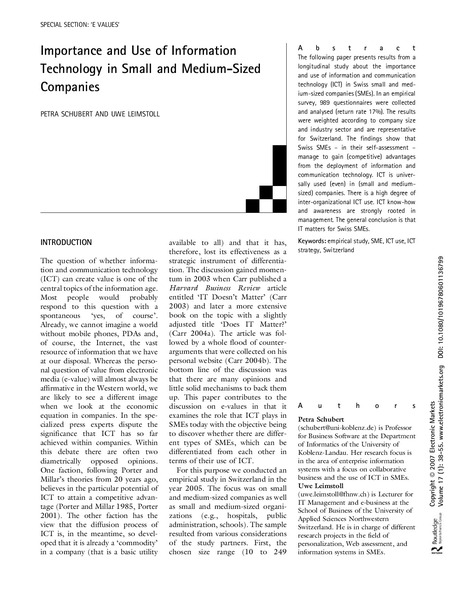 Typ
01 - Zeitschriftenartikel, Journalartikel oder Magazin
Herausgeber:innen
Herausgeber:in (Körperschaft)
Betreuer:in
Übergeordnetes Werk
Electronic Markets Journal
Verlag / Herausgebende Institution
Verlagsort / Veranstaltungsort
Praxispartner:in/Auftraggeber:in
Zusammenfassung
The following paper presents results from a longitudinal study about the importance and use of information and communication technology (ICT) in Swiss small and medium-sized companies (SMEs). In an empirical survey, 989 questionnaires were collected and analysed (return rate 17 %). The results were weighted according to company size and industry sector and are representative for Switzerland. The findings show that Swiss SMEs ? in their self assessment ? manage to gain (competitive) advantages from the deployment of information and communication technology. ICT is universally used (even) in (small and medium-sized) companies. There is a high degree of inter-organisational ICT use. ICT know-how and awareness are strongly rooted in management. The general conclusion is that IT matters for Swiss SMEs.
Fachgebiet (DDC)
330 - Wirtschaft
005 - Computer Programmierung, Programme und Daten
Startdatum der Ausstellung
Datum der letzten Prüfung
Während FHNW Zugehörigkeit erstellt
Zitation
SCHUBERT, Petra und Uwe LEIMSTOLL, 2007. Importance and Use of Information Technology in Small and Medium-Sized Companies.
Electronic Markets Journal
. 2007. Bd. 2007, S. 38–55. DOI 10.26041/fhnw-2975. Verfügbar unter: https://doi.org/10.26041/fhnw-2975