Legal Requirements for the Personalization of Commercial Internet Applications in Europe.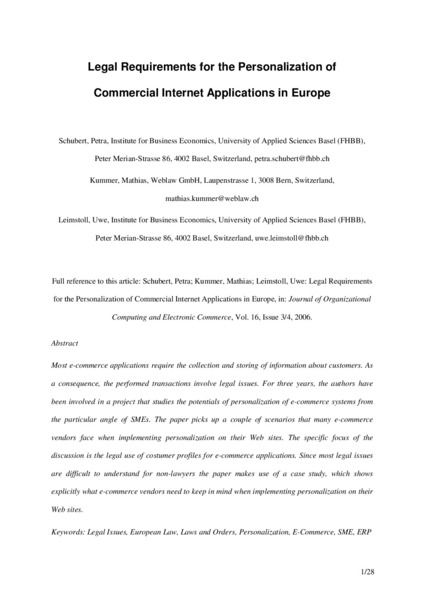 Datum
01.01.2006
Autorin/Autor
Type
01 - Zeitschriftenartikel, Journalartikel oder Magazin
Primary target group
Sonstige
Created while belonging to FHNW?
unbekannt
Zusammenfassung
Most e-commerce applications require the collection and storing of information about customers. As a consequence, the performed transactions involve legal issues. For three years, the authors have been involved in a project that studies the potentials of personalization of e-commerce systems from the particular angle of SMEs. The paper picks up a couple of scenarios that many e-commerce vendors face when implementing personalization on their Web sites. The specific focus of the discussion is the legal use of costumer profiles for e-commerce applications. Since most legal issues are difficult to understand for non-lawyers the paper makes use of a case study, which shows explicitly what e-commerce vendors need to keep in mind when implementing personalization on their Web sites.