Mass customization through B2B integration at Kaved AG.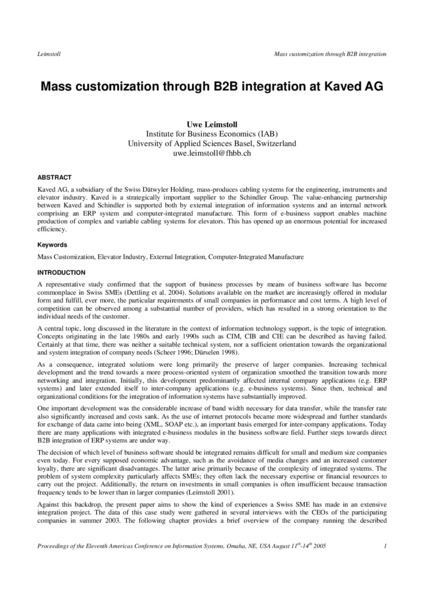 Autor/Autorin
Datum
2005
Type
04 - Beitrag Sammelband oder Konferenzschrift
Zusammenfassung
Kaved AG, a subsidiary of the Swiss Dätwyler Holding, mass-produces cabling systems for the engineering, instruments and elevator industry. Kaved is a strategically important supplier to the Schindler Group. The value-enhancing partnership between Kaved and Schindler is supported both by external integration of information systems and an internal network comprising an ERP system and computer-integrated manufacture. This form of e-business support enables machine production of complex and variable cabling systems for elevators. This has opened up an enormous potential for increased efficiency.
Übergeordnetes Werk
Proceedings of the 11th Americas Conference on Information Systems (AMCIS 2005)
Veranstaltung
Proceedings of the 11th Americas Conference on Information Systems (AMCIS 2005)