The Extended Web Assessment Method (EWAM) applied: do websites for consumer goods stand the test?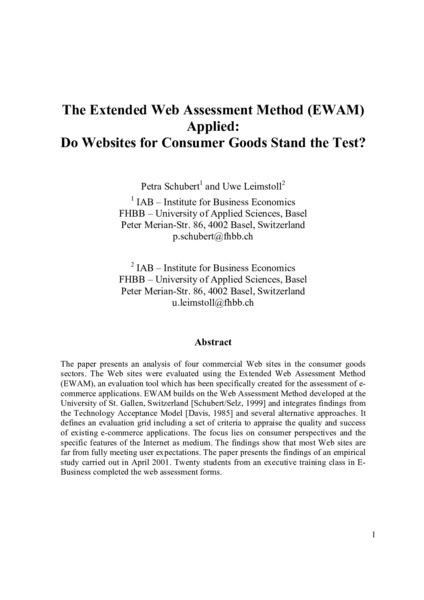 Typ
04B - Beitrag Konferenzschrift
Herausgeber:innen
Herausgeber:in (Körperschaft)
Betreuer:in
Übergeordnetes Werk
Eighth Research Symposium on Emerging Electronic Markets RSEEM. Workshop Papers
Verlag / Herausgebende Institution
International Institute of Infonomics
Verlagsort / Veranstaltungsort
Praxispartner:in/Auftraggeber:in
Zusammenfassung
The paper presents an analysis of four commercial Web sites in the consumer goods sectors. The Web sites were evaluated using the Extended Web Assessment Method (EWAM), an evaluation tool which has been specifically created for the assessment of e-commerce applications. EWAM builds on the Web Assessment Method developed at the University of St. Gallen, Switzerland [Schubert/Selz, 1999] and integrates findings from the Technology Acceptance Model [Davis, 1985] and several alternative approaches. It defines an evaluation grid including a set of criteria to appraise the quality and success of existing e-commerce applications. The focus lies on consumer perspectives and the specific features of the Internet as medium. The findings show that most Web sites are far from fully meeting user expectations. The paper presents the findings of an empirical study carried out in April 2001. Twenty students from an executive training class in E-Business completed the web assessment forms.
Schlagwörter
E-Commerce
,
Electronic Markets
,
Internet
,
New Markets
,
Web Assessment
,
Website
Fachgebiet (DDC)
330 - Wirtschaft
005 - Computer Programmierung, Programme und Daten
Veranstaltung
Eighth Research Symposium on Emerging Electronic Markets RSEEM
Startdatum der Ausstellung
Datum der letzten Prüfung
Während FHNW Zugehörigkeit erstellt
Zitation
SCHUBERT, Petra und Uwe LEIMSTOLL, 2001. The Extended Web Assessment Method (EWAM) applied: do websites for consumer goods stand the test? In:
Eighth Research Symposium on Emerging Electronic Markets RSEEM. Workshop Papers
. Maastricht: International Institute of Infonomics. 16 September 2001. S. 53–59. Verfügbar unter: https://doi.org/10.26041/fhnw-3139