Preserving Media Art Objects and Digital Archives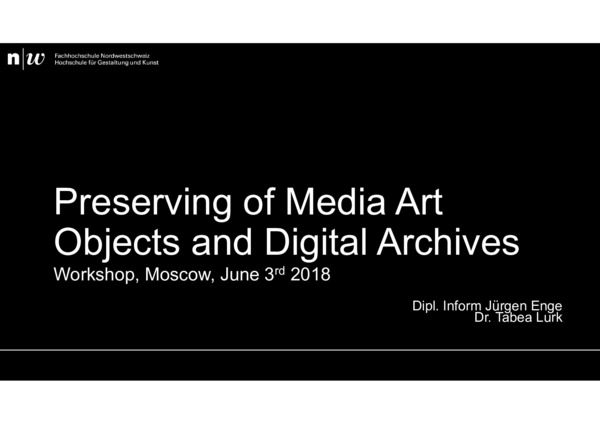 Dateien
Autor:innen
Herausgeber:innen
Herausgeber:in (Körperschaft)
Betreuer:in
Verlag / Herausgebende Institution
Verlagsort / Veranstaltungsort
NCCA National Centre for Contemporary Arts, Moscow
Praxispartner:in/Auftraggeber:in
Zusammenfassung
Presenting core areas of knowledge, which are to be covered the one way or another while pre-serving complex digital objects and digital art, the presentation is structured into three five parts: Part I: Media Art Examples: Short and selective overview Part II: Media Art Preservation: Programs and Strategies (1990s – 2015) Part III: Policies – Archival Appraisal – Sustainability & Accessibility Part IV: Case Studies Part V: Instead of a summary: getting prepared for the future. For obtaining a common terminological but also work-based basis for the discussion, the first part of the workshop begins with a historical overview of well-known media artworks (Part I) and groundbreaking preservation projects and conservation approaches (Part II). Part I is de-signed as kind of a dialog, combining the different perspectives from an art historical point of view and information science to approach media art. This section is followed by basic considera-tions on the conception and organization of digital archives (Part III). Here we try to illustrate specific requirements based on examples of our own professional practice. If time allows, the afternoon session concludes with a brief outlook on current funding policies (Switzerland, Ger-many and the EU), outlining core aims and requests such as open access, sustainability, interna-tional networking (all observed from the perspective of Data Management). Furthermore, expe-riences of EU evaluation and peer reviewing processes from an insider's perspective might be given – possibly in rather informal talk situations. This last section is designed in a rather generalized way to allow a smooth transition to a Q&A. Leaving some of time for questions and suggestions, we would be interested to learn something about the Russian side / approached in the sketched fields. The afternoon session will deepen the terms and concepts outlined in the morning session based on concrete case studies. It covers the entire preservation, maintenance and data management cycle. Since the foundation of permanent conservation operations depends on the quality of the identification and documentation of the significant properties of an artwork, special attention is given to this part. The spectrum of the presented works reaches from formerly videographic art-works through installation and net-based works until types of artworks that are no longer re-garded as closed in the classical archival sense. Again, there will be room for a Q&A at the end of the session.
Schlagwörter
Collection Management
,
Digital Preservation
,
Institutional Repository
,
Digital Archiving
Fachgebiet (DDC)
700 - Künste, Bildende Kunst allgemein
Veranstaltung
Inter Museum 2018 (XX. International Festival)
Startdatum der Ausstellung
Datum der letzten Prüfung
Während FHNW Zugehörigkeit erstellt
Zitation
LURK, Tabea und Jürgen ENGE, 2018. Preserving Media Art Objects and Digital Archives.
Inter Museum 2018 (XX. International Festival)
. NCCA National Centre for Contemporary Arts, Moscow. 3 Juni 2018. Verfügbar unter: https://doi.org/10.26041/fhnw-1414