Care Coordination in Palliative Home Care: Who Plays the Key Role?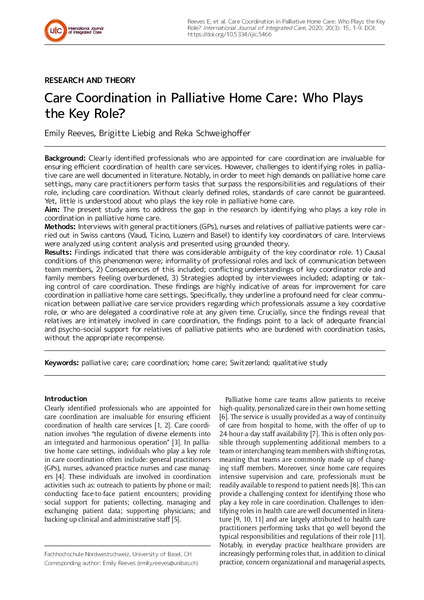 Typ
01A - Beitrag in wissenschaftlicher Zeitschrift
Herausgeber:innen
Herausgeber:in (Körperschaft)
Betreuer:in
Übergeordnetes Werk
International Journal of Integrated Care
Verlag / Herausgebende Institution
Verlagsort / Veranstaltungsort
Praxispartner:in/Auftraggeber:in
Zusammenfassung
Background: Clearly identified professionals who are appointed for care coordination are invaluable for ensuring efficient coordination of health care services. However, challenges to identifying roles in palliative care are well documented in literature. Notably, in order to meet high demands on palliative home care settings, many care practitioners perform tasks that surpass the responsibilities and regulations of their role, including care coordination. Without clearly defined roles, standards of care cannot be guaranteed. Yet, little is understood about who plays the key role in palliative home care. Aim: The present study aims to address the gap in the research by identifying who plays a key role in coordination in palliative home care. Methods: Interviews with general practitioners (GPs), nurses and relatives of palliative patients were carried out in Swiss cantons (Vaud, Ticino, Luzern and Basel) to identify key coordinators of care. Interviews were analyzed using content analysis and presented using grounded theory. Results: Findings indicated that there was considerable ambiguity of the key coordinator role. 1) Causal conditions of this phenomenon were; informality of professional roles and lack of communication between team members, 2) Consequences of this included; conflicting understandings of key coordinator role and family members feeling overburdened, 3) Strategies adopted by interviewees included; adapting or taking control of care coordination. These findings are highly indicative of areas for improvement for care coordination in palliative home care settings. Specifically, they underline a profound need for clear communication between palliative care service providers regarding which professionals assume a key coordative role, or who are delegated a coordinative role at any given time. Crucially, since the findings reveal that relatives are intimately involved in care coordination, the findings point to a lack of adequate financial and psycho-social support for relatives of palliative patients who are burdened with coordination tasks, without the appropriate recompense.
Schlagwörter
Palliative home care
,
quality of care
,
comparing perspectives
,
family caregivers
,
palliative professionals
,
palliative care
,
care coordination
,
home care
,
Switzerland
,
qualitative study
Fachgebiet (DDC)
300 - Sozialwissenschaften, Soziologie, Anthropologie
610 - Medizin und Gesundheit
Startdatum der Ausstellung
Datum der letzten Prüfung
Während FHNW Zugehörigkeit erstellt
Begutachtung
Peer-Review der ganzen Publikation
Zitation
REEVES, Emily, Brigitte LIEBIG und Reka SCHWEIGHOFFER, 2020. Care Coordination in Palliative Home Care: Who Plays the Key Role?
International Journal of Integrated Care
. 2020. Bd. 20, Nr. 3. DOI 10.5334/ijic.5466. Verfügbar unter: https://doi.org/10.26041/fhnw-3594