Impact of the COVID-19 Pandemic on Self-Perception of Aging Among Older Adults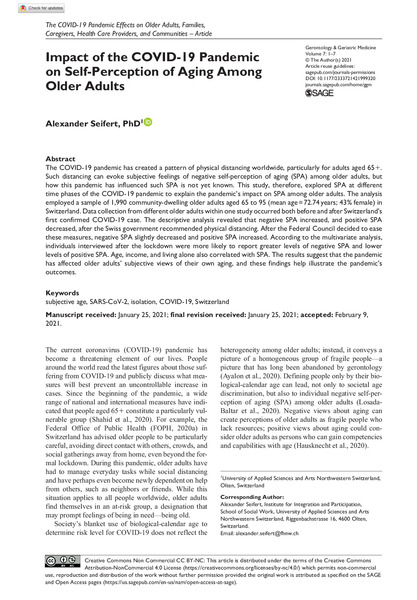 Autor:innen
Typ
01A - Beitrag in wissenschaftlicher Zeitschrift
Herausgeber:innen
Herausgeber:in (Körperschaft)
Betreuer:in
Übergeordnetes Werk
Gerontology and Geriatric Medicine
Verlag / Herausgebende Institution
Verlagsort / Veranstaltungsort
Praxispartner:in/Auftraggeber:in
Zusammenfassung
The COVID-19 pandemic has created a pattern of physical distancing worldwide, particularly for adults aged 65+. Such distancing can evoke subjective feelings of negative self-perception of aging (SPA) among older adults, but how this pandemic has influenced such SPA is not yet known. This study, therefore, explored SPA at different time phases of the COVID-19 pandemic to explain the pandemic's impact on SPA among older adults. The analysis employed a sample of 1,990 community-dwelling older adults aged 65 to 95 (mean age = 72.74 years; 43% female) in Switzerland. Data collection from different older adults within one study occurred both before and after Switzerland's first confirmed COVID-19 case. The descriptive analysis revealed that negative SPA increased, and positive SPA decreased, after the Swiss government recommended physical distancing. After the Federal Council decided to ease these measures, negative SPA slightly decreased and positive SPA increased. According to the multivariate analysis, individuals interviewed after the lockdown were more likely to report greater levels of negative SPA and lower levels of positive SPA. Age, income, and living alone also correlated with SPA. The results suggest that the pandemic has affected older adults' subjective views of their own aging, and these findings help illustrate the pandemic's outcomes.
Schlagwörter
Altersbild
,
Alter
,
COVID-19
,
Corona
,
Alterserleben
Startdatum der Ausstellung
Datum der letzten Prüfung
Während FHNW Zugehörigkeit erstellt
Begutachtung
Peer-Review der ganzen Publikation
Zitation
SEIFERT, Alexander, 2021. Impact of the COVID-19 Pandemic on Self-Perception of Aging Among Older Adults.
Gerontology and Geriatric Medicine
. 26 Februar 2021. DOI /10.1177/2333721421999320. Verfügbar unter: https://doi.org/10.26041/fhnw-3696