Recognitive justice and educational inequalities. AniIntersectional approach involving secondary grade school students in Greece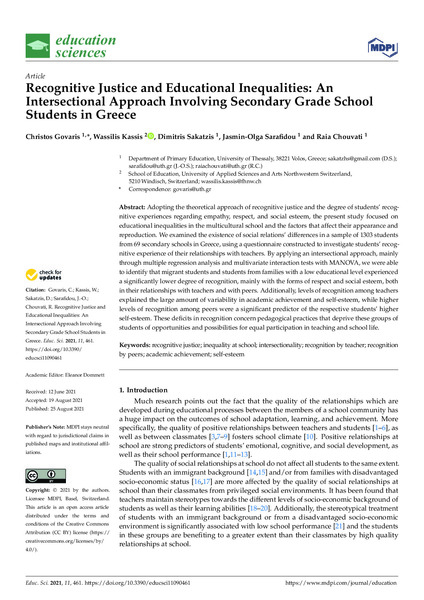 Dateien
[Artikel: Recognitive Justice and Educational Inequalities: An Intersectional Approach Involving Secondary Grade School Students in Greece]
Typ
01A - Beitrag in wissenschaftlicher Zeitschrift
Herausgeber:innen
Herausgeber:in (Körperschaft)
Betreuer:in
Verlag / Herausgebende Institution
Verlagsort / Veranstaltungsort
Praxispartner:in/Auftraggeber:in
Zusammenfassung
By applying an intersectional approach, mainly through multiple regression analysis and multivariate interaction tests with MANOVA, we were able to identify that migrant students and students from families with a low educational level experienced a significantly lower degree of recognition, mainly with the forms of respect and social esteem, both in their relationships with teachers and with peers. Additionally, levels of recognition among teachers explained the large amount of variability in academic achievement and self-esteem, while higher levels of recognition among peers were a significant predictor of the respective students' higher self-esteem.
Schlagwörter
Recognitive justice
,
Inequality at school
,
Intersectionality
,
Recognition by teacher
Fachgebiet (DDC)
370 - Erziehung, Schul- und Bildungswesen
Startdatum der Ausstellung
Datum der letzten Prüfung
Während FHNW Zugehörigkeit erstellt
Begutachtung
Peer-Review der ganzen Publikation
Zitation
GOVARIS, Christos, Wassilis KASSIS, Dimitris SAKATZIS, Jasmin-Olga SARAFIDOU und Raia CHOUVATI, 2021. Recognitive justice and educational inequalities. AniIntersectional approach involving secondary grade school students in Greece.
Education Sciences
. 25 August 2021. Bd. 11, Nr. 9, S. 21. DOI /10.3390/educsci11090461. Verfügbar unter: https://doi.org/10.26041/fhnw-3869