Potential and challenges of community-based surveillance in animal health: A pilot study among equine owners in Switzerland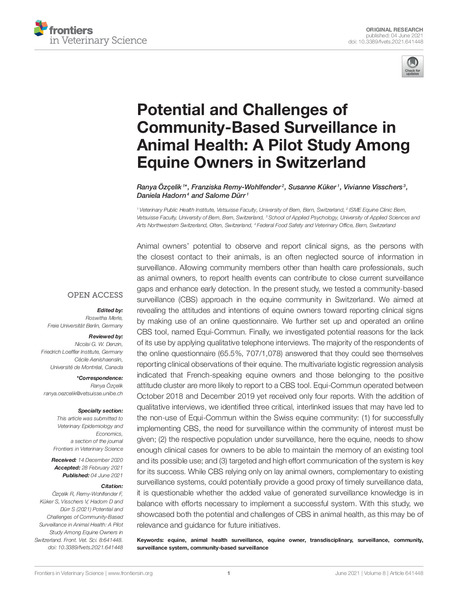 Autor:innen
Remy-Wohlfender, Franziska
Typ
01A - Beitrag in wissenschaftlicher Zeitschrift
Herausgeber:innen
Herausgeber:in (Körperschaft)
Betreuer:in
Übergeordnetes Werk
Frontiers in Veterinary Science
Verlag / Herausgebende Institution
Verlagsort / Veranstaltungsort
Praxispartner:in/Auftraggeber:in
Zusammenfassung
Animal owners' potential to observe and report clinical signs, as the persons with the closest contact to their animals, is an often neglected source of information in surveillance. Allowing community members other than health care professionals, such as animal owners, to report health events can contribute to close current surveillance gaps and enhance early detection. In the present study, we tested a community-based surveillance (CBS) approach in the equine community in Switzerland. We aimed at revealing the attitudes and intentions of equine owners toward reporting clinical signs by making use of an online questionnaire. We further set up and operated an online CBS tool, named Equi-Commun. Finally, we investigated potential reasons for the lack of its use by applying qualitative telephone interviews. The majority of the respondents of the online questionnaire (65.5%, 707/1,078) answered that they could see themselves reporting clinical observations of their equine. The multivariate logistic regression analysis indicated that French-speaking equine owners and those belonging to the positive attitude cluster are more likely to report to a CBS tool. Equi-Commun operated between October 2018 and December 2019 yet received only four reports. With the addition of qualitative interviews, we identified three critical, interlinked issues that may have led to the non-use of Equi-Commun within the Swiss equine community: (1) for successfully implementing CBS, the need for surveillance within the community of interest must be given; (2) the respective population under surveillance, here the equine, needs to show enough clinical cases for owners to be able to maintain the memory of an existing tool and its possible use; and (3) targeted and high effort communication of the system is key for its success. While CBS relying only on lay animal owners, complementary to existing surveillance systems, could potentially provide a good proxy of timely surveillance data, it is questionable whether the added value of generated surveillance knowledge is in balance with efforts necessary to implement a successful system. With this study, we showcased both the potential and challenges of CBS in animal health, as this may be of relevance and guidance for future initiatives.
Schlagwörter
equine
,
animal health surveillance
,
trandisciplinary
,
community-based surveillance
Startdatum der Ausstellung
Datum der letzten Prüfung
Während FHNW Zugehörigkeit erstellt
Begutachtung
Peer-Review der ganzen Publikation
Zitation
ÖZÇELIK, Ranya, Franziska REMY-WOHLFENDER, Susanne KÜKER, Vivianne VISSCHERS, Daniela HADORN und Salome DÜRR, 2021. Potential and challenges of community-based surveillance in animal health: A pilot study among equine owners in Switzerland.
Frontiers in Veterinary Science
. 2021. Bd. 8, Nr. 264. DOI /10.3389/fvets.2021.641448. Verfügbar unter: https://doi.org/10.26041/fhnw-3840