Slime Mold and Network Imaginaries: An Experimental Approach to Communication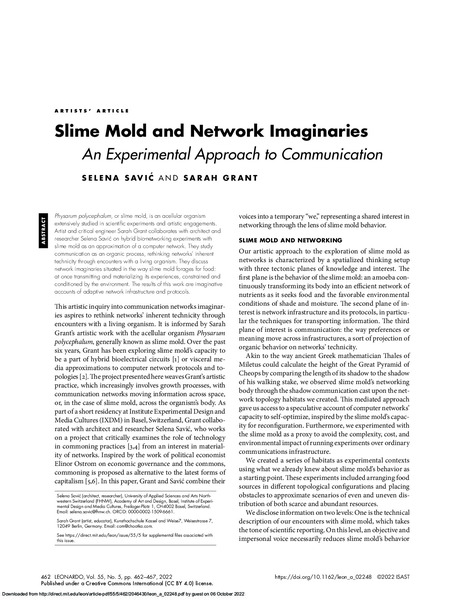 Dateien
Typ
01A - Beitrag in wissenschaftlicher Zeitschrift
Herausgeber:innen
Herausgeber:in (Körperschaft)
Betreuer:in
Verlag / Herausgebende Institution
Verlagsort / Veranstaltungsort
Praxispartner:in/Auftraggeber:in
Zusammenfassung
Physarum polycephalum, or slime mold, is an acellular organism extensively studied in scientific experiments and artistic engagements. Artist and critical engineer Sarah Grant collaborates with architect and researcher Selena Savic on hybrid bio-networking experiments with slime mold as an approximation of a computer network. They study communication as an organic process, rethinking networks' inherent technicity through encounters with a living organism. They discuss network imaginaries situated in the way slime mold forages for food: at once transmitting and materializing its experiences, constrained and conditioned by the environment. The results of this work are imaginative accounts of adaptive network infrastructure and protocols.
Schlagwörter
slime mold
,
Physarum polycephalum
,
network topology
,
imaginary
,
communication
Startdatum der Ausstellung
Datum der letzten Prüfung
Während FHNW Zugehörigkeit erstellt
Begutachtung
Peer-Review der ganzen Publikation
Zitation
SAVIC, Selena und Sarah GRANT, 2022. Slime Mold and Network Imaginaries: An Experimental Approach to Communication.
Leonardo
. 1 Oktober 2022. Bd. 55, Nr. 5, S. 462–467. DOI 10.1162/leon_a_02248. Verfügbar unter: https://doi.org/10.26041/fhnw-4349